We all appreciate the greetings and being welcomed, similarly welcoming the Facebook subscribers is important especially for the auto campaigns. To make that easy, we added an automated flow to welcome your new subscribers and start a conversation with them right away.
To enable the Messenger Welcome Campaigns, please visit your app dashboard and go to Messenger Auto Campaigns ➜ Welcome Campaigns.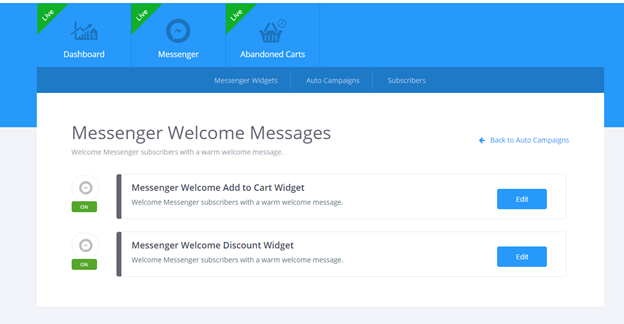 On the Welcome Messages page, you will see a separate Welcome Campaign for Subscription widgets, enable those which widgets you are using. You can enable and edit the individual campaigns to make sure that your welcome messages are set up just the way you want them.
Welcome Campaigns will maximize the potential by ensuring the subscriptions are successful and all your messenger campaigns are successfully delivered.
First of all, welcome message enhances the customer experience. When signing up to your Messenger campaign through active widgets, your visitors will receive an introductory message to let them know about the subscription.
This will ensure that your customers are fully aware of the subscriptions and they are ready to get any further marketing campaigns from your store via Facebook Messenger.
Welcome Campaigns will also help you engage your new subscribers right when they subscribe which is essential for effective marketing campaigns and will help you identify new subscribers.
One more interesting feature is quick replies. Make sure to add these quick replies to your welcome messages. Because it is necessary to establish a two-way communication to ensure the successful subscription. So, you want to receive as many replies form the Welcome Campaigns as possible.
In the end, Welcome Campaigns are an easy way to boost subscriptions and improve the experience of your customers. You can also increase engagement on your Facebook Marketing Campaigns.